Due date of GST return
Latest News
The last date for filing return in FORM GSTR-3B for the month of December, 2017 is extended by two days to 22nd January, 2018
The last date for filing return in FORM GSTR-3B for the month of December, 2017 is extended by two days to 22nd January, 2018

— GST@GoI (@askGST_GoI) January 20, 2018
Previous extensions
Due date of GST return extended for the month of July 2017 and August 2017
Now the revised due date calendar for gst in the month September 2017 and October 2017
Due date of GST return
20 SEP, 2017            GSTR 3B FOR THE MONTH OF AUG 2017*
03 Oct , 2017          GSTR 1 FOR THE MONTH JULY 2017 (Previous 05 Sep 2017, and 10 Sep 2017)
(for turnover more than 100 crore)
05 Oct 2017            GSTR 1 FOR THE MONTH AUG 2017 (Previous 20 Sep 2017)
10 Oct 2017            GSTR 2  FOR THE MONTH AUG 2017 (Previous 25 Sep 2017)
10 Oct , 2017          GSTR 1 FOR THE MONTH JULY 2017 (Previous 05 Sep 2017, and 10 Sep 2017)
(for turnover upto 100 crore)
READ BELOW THE FULL CHART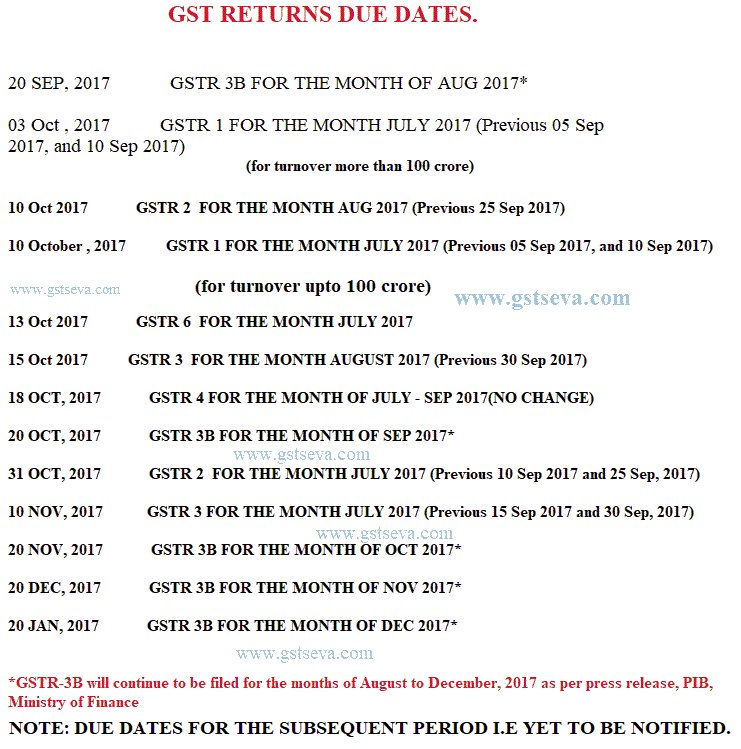 The decision of extension of GSTR 1 from 10 July 2017 to 15 July is taken in the 21st Meeting of GST Council is scheduled to be held on 9th September, 2017 in Hyderabad.
The expiry date for filing of #GST returns which was to be expired tomorrow, has been extended till October 10: @arunjaitley pic.twitter.com/OeOuuTe73K

— All India Radio News (@airnewsalerts) September 9, 2017
Other due dates are here:-
13 Oct 2017            GSTR 6  FOR THE MONTH JULY 2017 
15 Oct 2017          GSTR 3  FOR THE MONTH AUGUST 2017 (Previous 30 Sep 2017)
18 OCT, 2017            GSTR 4 FOR THE MONTH OF JULY – SEP 2017(NO CHANGE)
Important Note:
Table-4 under GSTR-4 not to be filled for the quarter July-September 2017. Requirement of filing GSTR-4A for this quarter is dispensed with.
15 Oct 2017          GSTR 3  FOR THE MONTH AUGUST 2017 (Previous 30 Sep 2017)
20 OCT, 2017            GSTR 3B FOR THE MONTH OF SEP 2017*
31 OCT, 2017            GSTR 2  FOR THE MONTH JULY 2017 (Previous 10 Sep 2017 and 25 Sep, 2017)
10 NOV, 2017           GSTR 3 FOR THE MONTH JULY 2017 (Previous 15 Sep 2017 and 30 Sep, 2017)
20 NOV, 2017            GSTR 3B FOR THE MONTH OF OCT 2017*
20 DEC, 2017            GSTR 3B FOR THE MONTH OF NOV 2017*
20 JAN, 2017            GSTR 3B FOR THE MONTH OF DEC 2017*                                     
*GSTR-3B will continue to be filed for the months of August to December, 2017 as per press release, PIB, Ministry of Finance 
Below are the confirmation of previous extension
CBEC official twitter account confirmed it by official tweet that- due date of GST return extended
GIC decides to extend Date of GSTR 1, GSTR 2 and GSTR 3 for the month of July to 10th, 25th and 30th September 2017 respectively.

GIC decides to extend Date of GSTR 1, GSTR 2 and GSTR 3 for the month of July to 10th, 25th and 30th September 2017 respectively.

— GST@GoI (@askGST_GoI) September 4, 2017
GST  Due dates for the month of aug 2017 also extended
GIC decides to extend Date of GSTR 1, GSTR 2 and GSTR 3 for the month of August to 5th, 10th and 15th October 2017 respectively.

— GST@GoI (@askGST_GoI) September 4, 2017

HERE IS THE NOTIFICATION
<blockquoteclass="twitter-tweet" data-lang="en">
Notification no. 29/2017 – Central Tax regarding extension of filing dates of GSTR 1/2/3 for the month of July & August, 2017 #GST pic.twitter.com/5OfkWIuuOo
— GST@GoI(@askGST_GoI) September 6, 2017